San Sebastian City Guide
Welcome to What San Sebastian -- your in depth, up-to-date San Sebastian city guide. We pride ourselves on offering original, accurate content with San Sebastian info you won't find anywhere else. Check out these 6 easy-to-navigate sections to find out what's up in San Sebastian, Spain...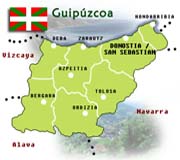 Learn here Donostia - or San Sebastian - traces its history back to 1180, when Sancho the Strong (Sancho el Fuerte) founded the city in what is now the Old Quarter.
Culture & the Arts
The arts and culture scene in San Sebastian is a thriving, throbbing mixture of the old and traditional and the new and contemporary. But what is important is the Arts and Culture setting... Read more
Trips from San Sebastian
San Sebastian is a perfect starting point for trips to neighboring towns and cities. There is the hustling and bustling city of Bilbao,, the historical attractions of Hondarribia and Vitoria, the Basque political capital. Read more
At What San Sebastian we are proud to offer you a helpful, original, and accurate content with San Sebastian info that you won't find anywhere else.
How to Use this Guide
The different sections in this website are sequenced in the natural order of a trip: About San Sebastian contains all you need to know before you leave for the city, and in the Transportation section will help you out getting around in San Sebastian.