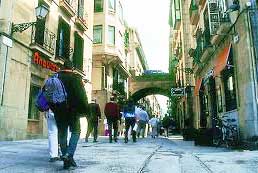 The Old Quarter of San Sebastian, is, as the name suggests, the oldest part of the city. It stands at the foot of Mount Urgull and opens to the sea at its harbor. It is one of the most important districts in San Sebastian. It is an old fishing village and boasts some of the oldest buildings of the city. Technically, the district is not very old, since most of the buildings were destroyed during the fire of August 31, 1813. This date also marked the rebuilding of the district and the city.
It is rich with historical treasures, and its narrow, cobbled streets are a virtual maze of street stalls, specialty shops, tapas bars and restaurants. It has two of the city's oldest churches: the Basilica de Santa Maria del Coro and the Convent of San Telmo, now a museum. It exudes a certain air and charm that is only to be found in old places worn out by much activity, history and festivity. Even now, it is where you will see traditional local life.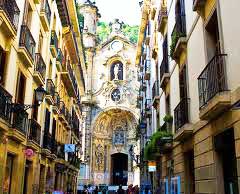 The Old Quarter surrounds the porticoed Plaza de la Constitucion (which the locals fondly call "La Consti"). This square is where you will witness most of the city's festivities. La Consti used to be a bullring during the Middle Ages, and as such the buildings surrounding it have large balconies from which residents could view the bullfights below. These balconies are painted white and are numbered.
There is also the Plaza de Trinidad, which is among the oldest corners of the city. It houses an area for competitions involving stone dragging. You can also see the old casino that used to be the Spanish monarchy's summer house. It is now home to the City Council.
Indeed, a visit to San Sebastian is not complete without going to the Old Quarter. Find out more about this highly interesting district. Click on the following links: