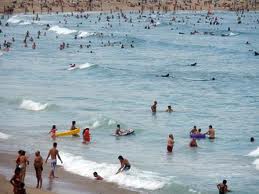 Being the summer capital of Spain gives you an indication of the kind of weather to expect in San Sebastian. Indeed, summers days are the ideal time to go to this city. This is when the days are at their sunniest, with warm temperatures that don't get too hot. This is the perfect time to go to the beach, when the water is warm and very ideal for swimming and other watersports.
In spring, showers may appear, but the weather remains mild, with plenty of sunny days in reserve. Be sure to wear additional clothing in the evening, as it can get quite cold and windy. It almost never snows in winter. Do not also forget to bring rain gear, as there are quite a number of rainy days during the winter.
Here's a summary of the average temperatures in San Sebastian.
| | | |
| --- | --- | --- |
| Month | Maximum | Minimum |
| January | 11°C / 52°F | 3°C / 37°F |
| February | 14°C / 57°F | 4°C / 39°F |
| March | 18°C / 64°F | 5°C / 41°F |
| April | 19°C / 66°F | 7°C / 45°F |
| May | 24°C / 75°F | 11°C / 52°F |
| June | 28°C / 82°F | 15°C / 59°F |
| July | 31°C / 88°F | 17°C / 63°F |
| August | 31°C / 88°F | 18°C / 64°F |
| September | 26°C / 79°F | 13°C / 55°F |
| October | 21°C / 70°F | 10°C / 50°F |
| November | 14°C / 57°F | 5°C / 41°F |
| December | 10°C / 50°F | 2°C / 36°F |