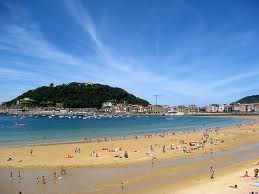 Picture this… shimmering seas, lush green hills, history and culture charmingly intermingled with the modern and cosmopolitan cityscape. These facets, and so many more, make up the famed San Sebastian, the summer capital of Spain. During summertime, the Spanish flock to this resort town to escape from the sweltering heat and just chill out along one of San Sebastian's beaches.
Yes, it is Spain's resort of choice- and with good reason! The breathtaking coastline set among the green landscape of the Guipuzcoa offers an inviting paradise for those seeking a unique experience of Spain.
Donostia, as San Sebastian is called in its native language, is sprawled along the famed La Concha beach. It is sheltered by Monte Urgull, Ulia and Igeldo. All in all, the city offers a stunning panoramic view from the mountains.
San Sebastian is also the capital of the Guipuzcoa province, the smallest province in Spain. Although small, it has managed to preserve its traditional Basque culture and you will have many opportunities to see Basque customs at work. Indeed, San Sebastian should be your first stop towards knowing the rest of the Basque country, as it gives you a superb introduction of the region's offerings.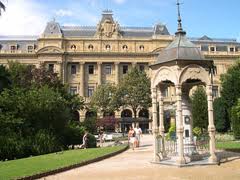 San Sebastian is near the French border and the French influence can be seen in the romantic, atmospheric and simply beautiful.way the buildings and streets are designed.
San Sebastian also enchantingly mixes the new with the oldl and this is very much part of the city's charm. You can take a step back in time and visit the Old Quarter or the charming fishing village, or meander through the Plaza de Gipuzcoa, or the Calle Prim, where there are modern houses and wide avenues. Indeed, the charming beachfront promenade has the Old Quarter on one end and a modern shopping center of the other end.
San Sebastian is also a gourmet's paradise. There are sumptuous pinxtos (the Basque version of tapas), and local Basque cuisine which is said to be one of the world's best.
San Sebastian, being a resort town, offers a wealth of watersports such as surfing, water-skiing and diving. Its three beaches - La Concha, La Zurriola and Ondaretta - offer great places where you can just relax while soaking up the sun. There is, actually, another beach, located at the Santa Clara Island. This small island sits in the heart of the La Concha Bay. You can reach this island via a ferry service from the harbor.
San Sebastian offers an unforgettable holiday and an introduction to a world of fun, culture, history, sports and gastronomy. Truly, San Sebastian is a paradise in its own right.