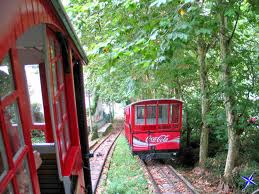 The Funicular de Igeldo means fun!
This is a great way to see parts of the city. It is a 15-minute ride with great panoramic views of the city and the bay. The train is made up of two wooden carriages, a large engine, a track and overhead steel cables. The track goes on a 33% incline over a 160 meter drop.
The funicular passes through the Ondarreta beach on to the Igeldo Amusement Park. There is a trip every 15 minutes. Fares cost 1.10 euros one way (2 euros for round-trip).
Funicular de Igeldo
Address: Plaza del Funicular de Igeldo, 4
Telephone: +34 943 210564
Opening Hours: 11:00 a.m. to 6:00 p.m. Mondays, Tuesdays, Thursdays and
Fridays; From October to March: 11:00 a.m. to 8:00 p.m.,
Saturdays and Sundays; From April to September, 10:00 a.m. to 10:00 p.m., Mondays, Tuesdays, Thursdays to Sundays.