When on the lookout for Baroque architecture, the first place to visit is the Old Quarter (Parte Vieja). Baroque architecture in San Sebastian include:
Casa Consistorial en Hondarribia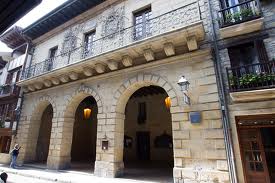 This is now home to the Town Hall (Ayuntamiento) and is in the Baroque style. The building itself is made with masonry stone. Interesting elements in this building are the balcony (designed with wrought iron and bearing the city's two coats of arms) and the entrance porch (which has three half point arches).
Iglesia de Nuestra Señora de la Asuncion y del Manzano
This church has a Baroque-style tower which was built in 1764.
Iglesia de San Pedro
The church features a Baroque entranceway topped with an image of Saint Peter.